---
Tallgrass Energy Partners, LP, through its subsidiary Tallgrass Pony Express Pipeline, LLC (Pony Express), has announced a binding open season soliciting additional shipper commitments for light crude petroleum transportation service on a potential extension of the Pony Express System.
Pony Express has already secured a commitment on the proposed Platteville extension, which would provide transportation service from a receipt point near Platteville in Weld County, Colo. The Platteville extension would include a receipt point located at Saddle Butte Pipeline's Milton terminal near Platteville, Colorado, among other potential receipt points.
Shippers will have access to delivery points at 1) Buckingham, Colorado; 2) El Dorado, Kansas; 3) Ponca City, Oklahoma; and 4) Pony's six final terminal destinations in Cushing, Oklahoma, under a Local Tariff that may accommodate additional delivery points in the future.
The light crude petroleum, also known as condensate, will be batched in the pipeline. Participating shippers will agree to ship petroleum having an API gravity of not less than 47° or more than 57° and a sulfur content not to exceed 0.2%.
Based upon shipper commitments received in this binding open season, Pony Express will add new capacity to provide the transportation service from Colorado to Oklahoma.
Pony Express expects the open season to end on 17 July 2017.
Read the article online at: https://www.worldpipelines.com/business-news/02062017/pony-express-pipeline-llc-secures-shipper-for-platteville-extension/
You might also like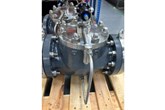 Oxford Flow expands its product range and grows market potential with new high- and low-pressure pilots.