---
MCAA President, Teresa Sebring, said, "I am pleased to welcome our newest Officers and Directors. The MCAA Board is comprised of individuals with diverse backgrounds and industry experiences that make them an asset to the organisation."
Mike Waters, President & Chief Executive Officer of SOR Controls Group, Ltd. was elected Chairman. SOR Controls Group, Ltd. (SCG) is a global leader in the design and manufacture of measurement and control devices under the brands of SOR Inc., Smart Sensors Incorporated (SSi), SETEX Products, and SENSOR Sampling. SOR Controls Group actively serves all sectors of the process industry with particular strengths in the Oil & Gas, Petrochemical, and Power segments. SOR is headquartered in Lenexa, KS and has regional offices in Beijing, London, Houston, Chennai and Dubai, and manufacturing locations in Lenexa and Houston.
Prior to joining SOR, Mike served in several senior leadership positions at CIRCOR International (NYSE: CIR) from 2006 to 2012, including Vice President & General Manager of Sagebrush Pipeline Equipment and Pipeline Engineering. Previously, Mike was the President of Flow-Zone LLC, a Gulf Coast-based oilfield supply company. Mike began his career with Emerson Electric Corp. (NYSE: EMR) as a member of the Rosemount Measurement & Control (Now Emerson Process Automation) organisation.
In addition to leading the MCAA Board, Mike currently serves on the Boards of Milbank Manufacturing, Inc., and Big Elk Energy Systems, LLC. Mike is a former Advisory Board member of the Petroleum Equipment & Services Association (PESA). Mike holds a Bachelor of Science in Engineering Technology/Industrial Distribution from Texas A&M University, and a Master of Business Administration in Finance from the University of St. Thomas in Houston, TX.
Mr. Waters served as Vice Chairman in 2018 and has been on the MCAA Board since 2016.
Scott Saunders, President, Moore Industries International, Inc. will serve as Vice Chairman. He joined Moore Industries in 1999 and has held various leadership roles with the company until assuming the role of President/CEO in 2014. Acquisitions of Powers Process Controllers in 2000 and Hawke Fieldbus in 2005 have continued Moore Industries' position as a world leader in the design and manufacture of interface instruments for industrial process control, system integration, and the factory automation industries. Moore Industries is an international company headquartered in North Hills, CA with direct sales and support offices in strategic worldwide locations including the USA, Australia, Belgium, the Netherlands, the People's Republic of China and the United Kingdom.
Scott holds a Bachelor of Science in Business Management from Winthrop University. Mr. Saunders has been on the MCAA Board since 2016.
2019 newly elected Directors-at-Large include:
Deryl Bell, President, Carotek Inc.
Russ Graybill, Director Product Marketing, Yokogawa Corporation of America.
Stephen Santangelo, President, Palmer Wahl Instruments, Inc.
Colin Sheridan, President, Tel-Tru Manufacturing Co.
The remainder of the Board is comprised of: Immediate Past Chairman: Bharat Naik, President of Reotemp Instruments.
Directors-at-Large are:
Mike DeLacluyse, President, Lesman Instrument Company.
Bill Edinger, General Manager Process Instrumentation, Siemens Industry.
Gary Johnson, President, Azbil North America, Inc.
Jim Winter, Director of Global Process Business, Rockwell Automation.
Founded in the early 1940s, MCAA has been serving leading industry organisations for 75 years. MCAA is the trade association for manufacturers and distributors of instrumentation and systems associated with the Measurement, Control and Automation Industry. MCAA provides resources for business effectiveness and growth through unsurpassed market and business insights, unique networking opportunities, and unbiased, affordable market data. The Association is headquartered in Poquoson, VA.
Read the article online at: https://www.worldpipelines.com/business-news/02012019/mcaa-announces-2019-board-of-directors/
You might also like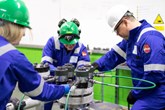 3t EnerMech named regional winner at top engineering awards for the second year in a row.