Compressor Controls LLC and Yokogawa launch jointly developed integrated solution for process and turbomachinery control
Published by Elizabeth Corner, Senior Editor
World Pipelines,
---
Compressor Controls LLC (CCC) and Yokogawa Electric Corporation have announced that they have concluded a commercial agreement for the sale of a jointly developed solution, CCC Inside™ for Yokogawa CENTUM VP, that integrates Yokogawa's process control technology and CCC's turbomachinery control technology.
It is being released on 30 November. Process control and turbomachinery control can be performed with the same system, which contributes to efficient staffing, engineering, procurement, and maintenance in plant operations.
Development background
Until now, plants have typically relied on separate systems with different logic for the control of processes and the control of turbomachinery. While purpose-built hardware provides best performance and diagnostics for the turbomachinery, it requires the management and operation of multiple systems, resulting in additional complexity. To support diverse end user needs, CCC, the number one company in the turbomachinery control market, and Yokogawa, a leader in the process control market that has delivered process control systems for more than 30 000 projects globally, have jointly developed CCC Inside for Yokogawa CENTUM VP, which integrates process and turbomachinery control in a single system.
In preparation for the release of this product, the two companies have concluded a commercial agreement under which Yokogawa will supply the hardware and software for the CENTUM™ VP integrated production control system, one of Yokogawa's core products in its OpreX Control and Safety line up, and CCC will provide the CCC Inside for Yokogawa CENTUM VP software by leveraging its control algorithms, global engineering and technical support for turbomachinery controls. In addition, the two companies will cooperate in global marketing and maintenance.
Main features
The CCC Inside for Yokogawa CENTUM VP software enables the CENTUM VP to execute CCC's control logic for controlling compressors, which are the most commonly used types of turbomachinery found in plants. By equipping CENTUM VP with a dedicated compressor control interface (faceplate), both process control and compressor control can be done from the same human machine interface (HMI). And by enabling the use of the same hardware, this solution reduces spare parts inventory and maintenance costs, and allows for more efficient maintenance planning.
Major target markets include oil and gas, petrochemicals, chemicals, electric power, etc.
CCC Inside™ was developed to deploy CCC control algorithms and expertise into DCS platforms. The control algorithms are based on the same code structure of CCC Pro Built™ platforms, maintaining consistency and reliability. CCC Inside is delivered with native human machine interfaces for the DCS operator station and direct integration with the alarm system. CCC Engineering Utilities further facilitate configuration and tuning, with high-resolution recording capabilities. CCC Inside is engineered and commissioned by CCC global project and field service teams.
Read the article online at: https://www.worldpipelines.com/business-news/01122021/compressor-controls-llc-and-yokogawa-launch-jointly-developed-integrated-solution-for-process-and-turbomachinery-control/
You might also like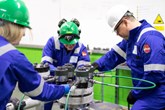 3t EnerMech named regional winner at top engineering awards for the second year in a row.