---
Black Bear Transmission LLC, (Black Bear) has announced that it has completed the divestiture of all the assets owned by Ozark Gas Gathering, L.L.C. (OGG) to an undisclosed buyer.
Black Bear is a portfolio company of the second Basalt fund (Basalt). This divestiture follows two bolt-on acquisitions completed by Black Bear this year – the purchase of the Ozark Gas Transmission and Gathering systems from Enbridge in April 2020 and the NGT Assets from Third Coast Midstream in September 2020.
OGG owns and operates a fee-based, natural gas gathering system that connects regional production in Oklahoma and Arkansas to Ozark Gas Transmission and other long-haul pipelines. The asset sale consists of more than 220 active metered locations, approximately 330 miles of natural gas pipelines, and 19 active compressor units totaling 11 400 horsepower.
"We are very pleased with this transaction," said Rene Casadaban, Chief Executive Officer of Black Bear. "The sale of these assets allows us to focus on our core business, which is to serve long-term, demand-driven end-user markets. We look forward to strengthening our relationships with the Ozark Gas Transmission customers while continuing to provide safe and reliable service."
"A key part of our strategy when we purchased the Ozark assets from Enbridge was to divest the gathering system and focus on the transmission line," added Scott Langston, Senior Vice President and Chief Commercial Officer for Black Bear. "We're proud to execute on this goal after only six months of ownership, and we appreciate all of the hard work from everybody involved to complete this sale."
The terms of the transaction are not being disclosed.
Morgan, Lewis & Bockius LLP served as Black Bear's legal advisor.
Read the article online at: https://www.worldpipelines.com/business-news/01102020/black-bear-transmission-sells-ozark-natural-gas-gathering-assets/
You might also like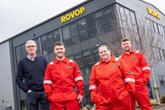 ROVOP focused on producing the 'next generation' of ROV pilots, adds three new trainees to its training programme.