---
TSC Subsea, a global specialist in remotely deployed subsea NDT inspections for the oil and gas industry, has opened a new base in Rio de Janeiro as part of its plans to expand across Brazil and further into Latin America.
The company, which already has bases in the UK and Norway, has appointed Brazilian-born Fabio Puga to the key new role of Country Manager. He will recruit a country-based team who will work with him to progress the company's plans for strategic growth across the region.
Fabio has more than 20 years' experience in the oil and gas industry, beginning his career working with high pressure systems such as HPUs, flushing units and the chemical injection skids which are used by both operators and subsea equipment manufacturers.
He moved to Norway in 2013 to work with a major subsea production systems contractor, working on projects in the UK and West Africa before joining TSC Subsea in June 2020.
He will provide invaluable support to the expansion of TSC Subsea throughout Latin America. He has extensive first-hand knowledge of the region and an in-depth understanding of the professional and cultural workings of the oil and gas industry.
His role is currently split between operations and business development and he has been tasked with creating a solid business foundation to support the company's continued growth in Latin America.
TSC Subsea is a technology-enabled inspection vendor that specialises in solving the most challenging subsea NDT inspections anywhere in the world. Until recently, the company supported Brazil remotely, but decided to open a permanent base in response to increased operations in Brazil.
The company is currently working on multiple long-term contracts with major operators in Brazil, one of which was recently extended for another year. In addition, TSC Subsea has identified numerous opportunities for growing its technology and solutions in the wider region.
"We see huge potential for TSC Subsea in the Brazil market as there is a strong demand for deep and shallow water remotely deployed advance inspection technology that provides high accuracy inspections to maintain operators' asset integrity," said Paul Cooper, President of TSC Subsea. "This is in line with our goal of improving both technical safety of the assets and HSE for personnel by reducing the needs for diver deployment.
"Fabio's combination of technical and business background makes him the best candidate to lead this business unit to the next level. We are glad to have him onboard this exciting expansion."
Fabio said: "It is an absolute pleasure for me to bring TSC Subsea's advance subsea inspection technology to my home country.I see huge potential in being part of the diverless initiative, supporting operators to migrate from diver-operated inspections to ROV deployed robotic inspections, and improving the safety and efficiency of these inspections."
Image: ARTEMIS® being launched offshore in Brazil.
Read the latest issue of World Pipelines magazine for pipeline news, project stories, industry insight and technical articles.
World Pipelines' June 2021 issue
The June issue of World Pipelines includes a regional report on Russia's most prominent oil and gas pipeline projects, as well as technical articles on design standardisation (Burns & McDonnell), corrosion (Tesi S.p.A.), hydrogen blending in pipelines (ILF) and much more. Don't miss the dedicated Coatings Q&A on p. 23, with Winn & Coales International Ltd.
Read the article online at: https://www.worldpipelines.com/business-news/01072021/tsc-subsea-opens-new-office-in-brazil-to-support-expansion-across-latin-america/
You might also like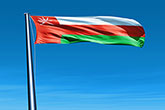 Oman's OQ Gas Networks announces price for gas pipeline business IPO.