---
The number of energy companies expecting to see 10% of their revenue come from the growth of the hydrogen economy is rising exponentially – almost half predict they will hit the mark by 2025, and three quarters by 2030.
Lack of investment in infrastructure is the biggest hurdle to progress, according to Rising to the Challenge of a Hydrogen Economy, the second annual report on the fuel carrier's future from DNV, drawn from 1100 senior industry professionals' views.
DNV is supporting major studies into gas infrastructure being converted to hydrogen use for national networks in North America, Norway, Italy, and Australia, in addition to extensive work testing hydrogen as a fuel carrier at its R&D site in the UK as part of the H21, FutureGrid and H100 projects.
Key points from the report include:
By 2025, almost half (44%) of energy companies globally involved in hydrogen expect it to account for more than a tenth of their revenue, rising to 73% of companies by 2030. This is up significantly from just 8% of companies today.
On the other side of this new energy value chain, 33% of hydrogen consumers expect hydrogen to represent more than a tenth of their organisation's energy or feedstock spending by 2025, rising to 57% by 2030. This is up from just 9% today.
Profitable business opportunities are the biggest driver for those involved in the hydrogen economy, while infrastructure and cost are two of the biggest hurdles.
Three quarters (73%) say Paris Agreement targets will not be possible without a large-scale hydrogen economy. Some 80% say the hydrogen economy needs effective carbon-pricing regulations before it can scale-up.
Read the latest issue of World Pipelines magazine for pipeline news, project stories, industry insight and technical articles.
World Pipelines' June 2021 issue
The June issue of World Pipelines includes a regional report on Russia's most prominent oil and gas pipeline projects, as well as technical articles on design standardisation (Burns & McDonnell), corrosion (Tesi S.p.A.), hydrogen blending in pipelines (ILF) and much more. Don't miss the dedicated Coatings Q&A on p. 23, with Winn & Coales International Ltd.
Read the article online at: https://www.worldpipelines.com/business-news/01072021/new-research-from-dnv-energy-industry-rising-to-the-challenge-of-a-hydrogen-economy/
You might also like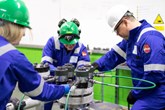 3t EnerMech named regional winner at top engineering awards for the second year in a row.