---
Reuters have reported that the US Supreme Court have dealt another setback to a proposed natural gas pipeline running from Pennsylvania to New York, rejecting Constitution Pipeline Co.'s bid to challenge New York state's refusal to issue a needed water permit for the project.
The high court left in place an August 2017 ruling by the New York-based 2nd US Circuit Court of Appeals in favour of the state. Partners in the 125 mile (201 km) pipeline project include Williams Companies Inc., Duke Energy Corp, WGL Holdings Inc. and Cabot Oil & Gas Corp.
The US Federal Energy Regulatory Commission (FERC), which regulates pipelines, first approved construction of the project in 2014 and then again in 2016, conditional upon other approvals.
Constitution, which filed with FERC to build the pipeline in 2013, separately sought water quality certification with the New York Department of Environmental Conservation in August 2013. But the state denied the application in April 2016, saying the company failed to provide sufficient information to determine whether the project would comply with the state's water quality standards.
Constitution appealed that decision to the 2nd Circuit, but lost. The Supreme Court's refusal to hear the company's appeal of the 2nd Circuit's ruling does not necessarily kill the project. The company has separately petitioned FERC to overturn the state agency's decision. In March, the federal regulator gave itself more time to consider the issue.
If built, the pipeline would transport 0.65 billion ft3/d of shale gas. New York uses on average about 3.6 billion ft3/d of gas.
Read the article online at: https://www.worldpipelines.com/business-news/01052018/us-court-rejects-constitution-pipeline/
You might also like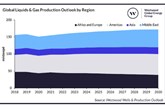 New report from Westwood finds liquids and gas production set to reach 173 million boe/d by 2030, with 9% growth on 2022 levels.