Aker BP and Accenture team up on data factory in the cloud to improve oil and gas operations
Published by Sara Simper, Editorial Assistant
World Pipelines,
---
Accenture is helping Aker BP, one of Europe's largest independent oil companies, become a data-driven enterprise by building a cloud-based foundation and data factory to improve its operations.
Aker BP launched the project to accelerate its goal of digitalising the full lifecycle of its operations to cut costs, improve productivity, and lower its carbon footprint.
Many oil and gas companies have only been able to use a fraction of the data they generate and own, with information locked in functional areas with differing legacy applications, rendering it unusable across their organisations. A modern data foundation can help overcome common barriers to value, which may include data accessibility and trustworthiness.
Based on its technology, innovation and upstream oil and gas data management experience, Accenture was selected by Aker BP to develop a data factory solution in collaboration with Cognite and Aker BP. Cognite, an industrial software company, has applied its Cognite Data Fusion software at Aker BP to more rapidly implement the transformation by freeing and contextualising data across IT and operational technology silos.
"This project is key to our vision of being the leading offshore oil and gas exploration and production company," said Per Harald Kongelf, SVP Improvements of Aker BP. "We look forward to working closely with Accenture and Cognite, as we create a culture of innovation and experimentation to build the data foundation with a high degree of automation. All three companies share a similar approach of driving value though digital technologies, which will greatly benefit this project."
Managed like a factory, the data foundation will be focused on delivering business results at scale, with automation and innovation, predictable delivery schedules and quality controls. New ways of working will be enabled by this model, including agile and DataOps.
"By applying automation, innovation and technology, the project team can deliver more reliable data to help improve the company's operations," said Sven Erik Skjæveland, managing director and Nordic Energy lead for Accenture. "Aker BP will be better positioned to take advantage of cloud-native services and more efficient workflows that promote greater efficiency and collaboration."
Other goals include exploring the Open Group OSDU™ Forum's data standards and formats for wells and seismic data.
Read the article online at: https://www.worldpipelines.com/business-news/01022022/aker-bp-and-accenture-team-up-on-data-factory-in-the-cloud-to-improve-oil-and-gas-operations/
You might also like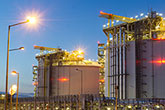 Prices pick up slightly but continue to remain deflated worldwide; prices did not respond as they did in 2022 despite disruption of gas pipeline supplies in Europe by multiple maintenance works.