---
Noble Midstream Partners LP and Greenfield Midstream LLC have announced the completion of the acquisition of Saddle Butte Rockies Midstream, LLC and certain affiliates (collectively, Saddle Butte) through a newly formed joint venture, Black Diamond Gathering, LLC. The aggregate purchase price for the acquisition was approximately US$638.5 million in cash.
Noble Midstream funded its US$319.9 million share of the purchase price with proceeds from its December 2017 common unit offering and borrowings under its unsecured revolving credit facility. Noble Midstream received a 4.4% ownership promote in the joint venture. In conjunction with the transaction close, Noble Midstream partially exercised the accordion feature under its existing revolving credit facility, increasing the commitments under the credit agreement from US$350 million to US$530 million.
Noble Midstream's 54.4% ownership of Black Diamond Gathering will be held through its wholly owned subsidiary, Laramie River DevCo LP. Greenfield Midstream will own 45.6% of Black Diamond Gathering.
Noble Midstream now operates the Saddle Butte assets, which include a large scale integrated crude oil gathering system in the DJ Basin, consisting of approximately 160 miles of pipeline in operation, 300 000 bpd of delivery capacity and approximately 210 000 bbls of crude oil storage capacity. Saddle Butte has approximately 141 000 dedicated acres from six customers under fixed fee arrangements. This reflects PDC Energy, Inc.'s (PDC Energy) acreage dedication expansion from approximately 72 000 acres to approximately 96 000 net acres. In addition, PDC Energy expanded its dedication by five years, bringing the dedication contract duration to approximately 12 years from close. Noble Midstream and Greenfield Midstream will jointly provide commercial efforts to attract further producer dedications to Black Diamond Gathering.
Read the article online at: https://www.worldpipelines.com/business-news/01022018/nobel-midstream-and-greenfield-midstream-complete-saddle-butte-acquisition/
You might also like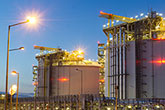 Prices pick up slightly but continue to remain deflated worldwide; prices did not respond as they did in 2022 despite disruption of gas pipeline supplies in Europe by multiple maintenance works.