Project news - 24 January 2018
Trafigura signs new agreement with Plains All American Pipeline to transport significant volumes of crude oil.
Nord Stream 2 AG is supporting telemetry studies of the Baltic ringed seal for scientific purposes in the Gulf of Finland.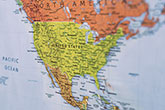 Kinder Morgan is "extremely pleased to have placed the Utopia pipeline into service."