Equipment & safety - 31 January 2017
The National Energy Board has finalised an order for companies to post emergency management programme information online.
Roxtec Services AB approved for pipe and cable transit inspection and maintenance by Lloyd's Register audit.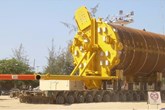 ITF and Crondall Energy invite participants to join the Anchoring Pipeline Technology joint industry project to reduce the risk of pipeline walking and associated installation costs.