Contracts & tenders - 30 November 2016
Ancala Midstream Acquisitions agrees to acquire Apache's interest in the Scottish Area Gas Evacuation system and Beryl pipeline.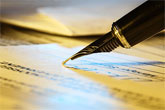 Prince Rupert Gas Transmission has signed a pipeline project agreement with 12 Gitxsan hereditary chiefs. The agreement outlines economic and employment benefits in addition to other commitments that will be provided for as long as the project is in-service.
GE Oil & Gas recently signed an agreement with TAG GmbH to install new tuning maintenance software on an entire fleet of gas turbines.