Business news - 12 March 2020
OMV signs agreement to increase its shareholding in Borealis to 75%.
TC Energy's subsidiary NOVA Gas Transmission Ltd has signed a letter of intent to purchase the Pioneer Pipeline.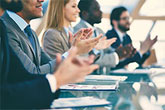 Apache Corporation names executive leadership for the operations and development functions within redesigned organisational structure.