Business news - 08 February 2019
Noble Midstream and Salt Creek Midstream close Delaware Basin joint venture.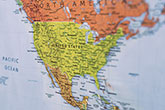 Bureau of Land Management announces record-breaking year of more than US$1 billion generated by oil and natural gas lease sales.
Williams has delivered a record amount of natural gas on its Transco interstate gas pipeline.