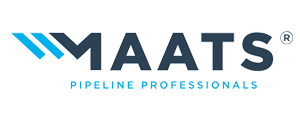 Internal bending of pre-insulated pipes
The most obvious alternative to the traditionally used factory-made bends would be to bend insulated pipes with a conventional external bending machine. Despite several tests performed, the conventional bending machines however were not found suitable for bending insulated pipes. There is absolutely no way to fully prevent damage to the PU thermal insulation and the PE jacket pipe. This not only results in inconsistent insulation values and heat leaks but, more importantly, to possible water ingress, enlarging the chance for corrosion of the carrier pipe and reducing the lifetime of the entire pipeline system.
This presentation by Maats will discuss the benefits of utilising their new internal bending machine on pre-insulated pipes.
With the Maats internal bending machine it now is not only possible to bend insulated pipes but, maybe even more importantly, it can perform bends on the jobsite, relieving the project from the extensive engineering and logistical challenges of designing and distributing factory made bends. Now these bends can easily be made from standard pipes, on any jobsite, anywhere in the world. Moreover, with the Maats internal bending machine it is possible to make a bend in about an hour, increasing project flexibility immensely.
Initially the internal bending machine was engineered mainly for district heating, where steel pipes generally have a limited wall thickness (up to 10 mm), a lower steel quality (often P235GH or P355NH), and generally are spirally weld. However, Maats also sees a big potential in using the same bending technique for long distance heated pipelines like for crude oil or sulphur.
These new applications and different specifications however require a further development of the internal bending machine and Maats is therefore currently manufacturing an internal bending machine capable of bending X65 pipe with a wall thickness of up to 21 mm.
Not only is the price per bend lower than traditional factory-made bends, there are more major advantages:
Easier and cheaper logistics
Only identical straight pipes have to be brought to the jobsite, making production and logistics easier and reducing the number of transports saving both on costs and CO2. The internal bending machine itself is conveniently installed in a 20' container; its low weight also makes transport easy and cheap.
Flexibility on site
If there is a change in routing or if there are any unforeseen obstacles, requiring a slightly different bend, this can easily be done on the jobsite.
Consistent quality
As standard pipe is used, the insulation thickness is consistent and the insulation values are always the same, without the possible variations when post-insulating bent pipes.
Higher productivity
Once the machine and the bending team are attuned, it is possible to bend 10 to 12 pipes per shift, depending on the bend angle to be achieved. This is much quicker than making factory made bends with post insulation.
Cheaper pipe
It is possible to use standard pipes with a low-density foam, reducing the price per pipe significantly.
Lower failure rate
As the bending process is largely automated (pre-programmed steps and angles) the risk of rejected bends is minimised.